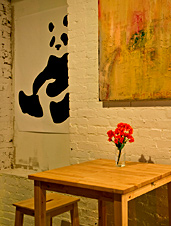 Pandas are adorable.
But they are also dangerous, ferocious wild beasts.
Which brings us to a seemingly placid, hidden-away coffee shop and gallery space on the Lower East Side that, come nightfall, morphs into an arty clubhouse, bar and late-night dance party that might just get a little...unruly.
Its name:
Panda,
here to set the scene for your late-night escapades. And it's opening Wednesday.
Owned by a veteran of the much beloved, now deceased, all around great bar Passerby, Panda was conceived to recreate some of Passerby's old charms—meaning, it has the casualness of a friend's living room. Not your best friend, but that guy who always manages to throw the types of parties that leave you sitting at a diner at 6am, wondering if you were really just talking to RuPaul and a Russian cosmonaut.
Once you pass through the front door—marked only with a stencil of a panda—you'll enter a deep, narrow space (formerly a woodworking shop) of exposed brick and understated wood furniture, with the bar up front and the art, couches and dance floor in back. It's an arrangement that'll keep things flowing as you sip house brew
Panda Pilsner,
peruse a photo exhibition of a nude model (human, not panda) and slowly lead a late-night, sake-powered dance party soundtracked with eclectic old vinyl.
Cosmonauts love old vinyl.