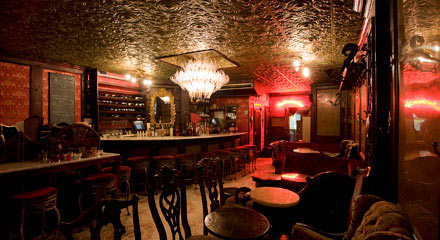 We don't want to get all karma on you, but sometimes a change of location is good for the soul. You know: moving, expanding, growing.

Feeling, touching.

Being.

Here to reinvigorate your spirit/wine goblet: The Bourgeois Pig, opening in its new quarters on Wednesday.

About three times the size of its old place across the street—which will be turned into a New World wine bar (though, regrettably, not in time for Columbus Day)—the relocated Pig feels like a European parlor overseen by a boozy maid: grand and ornate, yet cozy in its cluttered-ness. Open the tall, sliced-in-half Belgian door, and you'll find lengthy blood-red velvet couches, a pair of real Louis XIV chairs, gargoyle candle holders and, the showstopper, an enormous custom-made chandelier composed of 135 crystals blown in Murano—the place to have your crystals blown.

Plus, greater space means more of what you really want: melted cheese. The expanded menu includes 10 cheese fondues (e.g., aged white cheddar and Cajun spice), 10 sweet fondues (Dark Chocolate Fondue, with Baileys, cake and fresh fruit), inventive drinks like the Port Flip (port wine shaken over ice with chocolate and raspberry preserve) and Napoleon Champagne Punch (ladled for you out of silver punch bowls).

All in all, a moving experience.