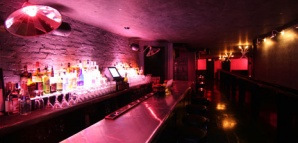 As we've been saying for years now, most things go better with empanadas.

Two well-documented examples: beer and music.

Where you can find them: Label, the new underground music-and-empanadas bar that's destined for the top of your list of the city's best underground music-and-empanadas bars.

Premiering this week on the Lower East from ex-Cielo general manager Nick Valencia, Label may at first strike you as a modest late-night empanadas den. The major reasons for this perception: two neon pink signs in the window that say "empanadas" and "eat late," and four flavors of empanada (chicken, beef, cheese and vegetable) cooked Colombian-style (using cornbread rather than tortilla) till 4am.

But the truth is, Label's main entrée is music. Valencia calls his place a "musicbar" (yep, one word), and the name "Label" comes from "White Label," the term used to describe new and unlicensed remixes from underground DJs and producers. Backing up all the music-talk are 14 speakers from a five-figure Electrovoice sound system, a DJ booth situated behind an intimate dance space and two inches of acoustic foam that cover the entire ceiling of the long, narrow and antler-sconced cavern—meaning you'll hear all of Label's funk/soul/Latin/deep-house/non-commercial music with pristine clarity.

Colombian imports and New York nightlife—the romance continues.