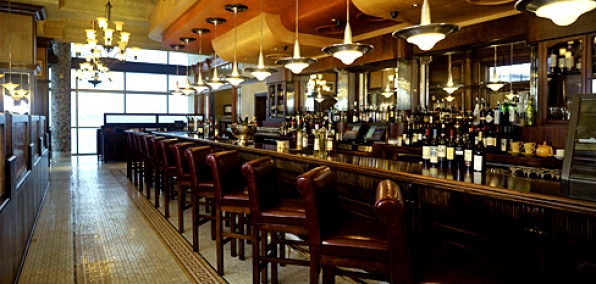 Fundamental truth: the cocktail always matters more than the glass.

But occasionally, the glass itself takes center stage.

Especially when it's not a glass at all. And when it's usually reserved for Grandma...

Introducing Bond 45, opening Monday at National Harbor to give you a reason to cross state lines: Prohibition-era cocktails served in antique teapots.

Think of this steak-and-pasta-rich New York import as a bit of old-school Manhattan on the Maryland riverfront—Tuscan artwork, a walk-through open kitchen, sanded white tile floors, tarnished glass and dark new wood carefully nicked for that "lived-in" look.

Take a seat at the long wooden bar—salvaged from Italy and reassembled here—and order up some house-made mozzarella while the bartender prepares your teapot. A nod toward Prohibition, when serving booze required a bit of subtlety, your teapot will be graced with period cocktails like gin, elderflower liqueur and grapefruit.

Once your kettle is dry, make your way back through the kitchen, take a seat at one of the large saloon booths (complete with swinging doors) and while away the evening over lobster carbonara and flat iron steak.

And, of course, more tea.