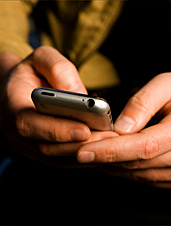 2010 is your year.
Allegedly.
First step on your road to fame, glory and a tasteful amount of personal wealth: a little old-fashioned self-promotion.
We're thinking: skywriting your name over the Eiffel Tower, placing a Super Bowl ad or maybe taking over
The Tonight Show.
Or maybe you should just start with your own iPhone app.
Introducing
Appmakr,
a first-of-its-kind website that makes it cheap and simple to build your own iPhone app, online now.
Think of it as the fastest, easiest and—not that your public isn't worth a sizable investment—cheapest way to get your genius into the App Store. If you don't already have a website—a résumé page, a blog for photos of the world's cutest kittens—you'll need one of those.
But from there on out, it's simple—if you've ever uploaded a Facebook photo, you can handle this. Start by typing in your website's address. Then pick out a couple of colors and an icon to represent your app (we'll just say a falcon seems appropriate). And then they'll do the rest—you'll have an app chock-full of your scandalous photos, poignant blog ramblings and heartfelt Tweets, all ready to show to your next prospective date, employer or patron.
And since innovation is no good without profit, you can bring in ads from AdMob. Or you can spend a little (okay, a few hundred bucks) extra, and you can sell your app for as much as you want in the App Store.
We don't think $1 million is too much to ask.