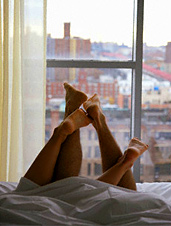 If you ask us, everyone deserves a reward for making it through the first full week of the new decade.
We suggest a vacation—to somewhere totally crazy, wildly adventurous and yet completely familiar.
Introducing
Gekko,
a travel site devoted to finding you a familiar-seeming hotel in a strange-seeming city, in beta now.
If you're the type of person who lands in a foreign city and immediately looks for the nearest English-speaking bartender, you're going to like this site. 
The setup is dead simple—tell Gekko where you're going, and name your favorite hotel. Then it'll show you a handsome grid of photos and details from hotels similar in both price and vibe to the one you know.
So let's say you're headed to Paris. Type in a hotel you've always liked, from anywhere in the world (say, the Ace in NYC), and you'll be treated to a list of similarly priced, hipster-friendly boutiques. (Though your Parisian host
probably
won't have a giant American flag in the lobby.) Pick from sharp-looking options like the Kube or the Hidden Hotel, and then book via the site. And if for some reason you really like the Hampton Inn near the Orlando airport, well, they've got that listed too.
Paris's Best Westerns are amazing this time of year.