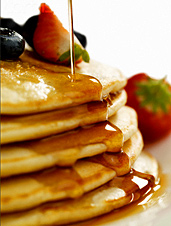 Today we want to take you to someplace different. Someplace that's strange and magical.
A place where you can walk into a restaurant, order up some pancakes and then start making your delicious flapjacks yourself, right there on the table.
That place: Portland, Oregon.
More specifically:
Slappy Cakes,
the nation's newest (and possibly only) make-your-own-pancake joint, open now in the Great Northwest.
Consider it a pancake restaurant of your very own, only someone else pays the rent and waits the tables. So when you sit down inside the rustic, barn-style joint, you'll notice your table has been conveniently outfitted with an unusual centerpiece: a griddle. (It's like Benihana, but nowhere near as dignified.) And then you order one thing: batter. It comes in styles ranging from plain to seasonal (currently on offer: pumpkin), and it will soon be delivered in a squeezable 8-ounce bottle. (Drawing your date's portrait in 'cakes has never been easier.)
Then pick a couple fixins—their word, not ours—like chocolate chips, bacon and that old chestnut, red wine-tarragon apple sauce. (It's the boozy apple sauce you've been waiting for.) And then start whipping up your namesake fluffy, milky 'cakes. (Go ahead, try a backhanded flip.) Finish with a
Whiskey for Breakfast,
made with local booze, syrup and an egg white.
Don't worry: they make that for you.