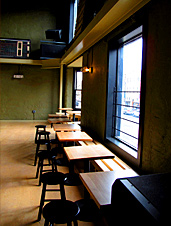 Subfreezing temperatures. Eggnog-fueled holiday romps. Reindeer sweaters.
It's all left you a bit...worn out. An escape is clearly in order.
May we suggest Jamaica—by way of U St.
Presenting
Patty Boom Boom,
a mash-up of a Caribbean carryout and a late-night dance parlor, scheduled to open tomorrow on U St.
With the first hint of the concrete, steel and local-art look of the first floor, you'll realize you're walking into a well-appointed Jamaican townhouse of food and music built by the folks who brought you Eighteenth Street Lounge and Marvin (not to mention Thievery Corporation).
But before you head upstairs to the dance den, some sustenance: order up a Jamaican patty (turnovers, basically, filled with morsels like spicy beef, jerked goat and vegetables) and a Red Stripe and get your conversation out of the way early. Upstairs, 20-plus speakers and subwoofers power a mix of reggae and house music, and during last week's soft opening, there were reports of the bass vibrating drinks off the bar onto the blondewood dance floor.
Even the art on the walls consists of old woofers and mixing boards (a Wall of Sound, so to speak, but without the inherent creepiness of Phil Spector). Once you get the music out of your system, your late-night snack is never more than a staircase away—the patty counter is staying open until 4am.
Just walk away from the bass.