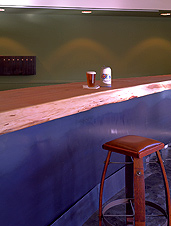 You know that beer and brats go together like New Year's Eve and endless champers (and a bottle of Advil on New Year's Day).
Which is why we're used to running into you at Toronado with pint and sausage in hand—and why you'll be happy to hear that the second, bigger, beer-serving outpost
Rosamunde Sausage Grill
opens a week from Friday in the Mission.
While part of the charm of the shoebox-sized original is moving from Toronado to Rosamunde and back, it's hard to knock the convenience of having roughly 14 sausages, 22 local craft brews on tap and 30 beers by the bottle—all under one roof.
The extra real estate also means you've got options beyond a few stools at the counter. If you stop in after work, grab a seat at the cypress-topped bar overlooking the flat-screen TV for a sauerkraut and grilled onions-topped beer sausage and a Lagunitas IPA. Or, if the nook of banquettes with tree-stump tables is free, pass the communal tables by the windows and take that area over.
All the sausages from the original list—like the
Wild Boar
and
Merguez
—will be served here, in addition to new specialties like the all-beef and bacon
Mission Street
. For moments of sausage indecision (many of which we suspect you'll have here), you can hit up the sausage plate (two sausages).
And since sausages aren't just for dinner, swing by before work for Four Barrel Coffee and their
Sausage, Egg & Cheddar Sandwich
.
Consider it the hair of the sausage dog.