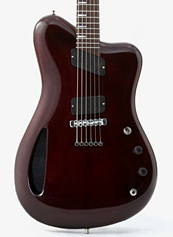 Starring in a TV show is great.
But really, more actors should focus on selling you premium organic cotton underwear.
Here to help: Adrian "Entourage" Grenier, who's bringing you a strange and compelling new green-minded website called
SHFT
, now in beta.
Proving words like "sustainable" and "eco-" don't have to mean boring or ugly, SHFT offers you things you never knew existed, but that you might actually want. Like a Mada Caimes Hemp Guitar, all curves instead of carved edges, and made from hemp pulp. (Hemp pulp has never looked sexier, by the way.)
If that inspires you to finally get your band off the ground, you'll probably also want some wheat-made Wheatware Drum Sticks, so your drummer's wicked solos aren't dependent on tree murder. (Also, no splinters.)
But it's not all rock stuff. Other eco-gear includes sneakers made of latex, an electric motorcycle, the aforementioned premium organic cotton underwear (for the ladies) and even a lounge chair made from two recycled Boeing 727 emergency exit doors.
Definitely a Turtle idea.