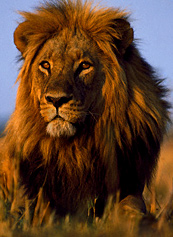 As the weekend approaches and holiday planning begins, we'd like to take this opportunity to discuss…meat.
Specifically, the kind you can't find at the supermarket. Or at your butcher. Or, really, anywhere in and around North America.
In fact, we'd like to direct you toward
Anshu's Exotic Meat Market
, an under-the-radar source for rare meats, delivering now in time for the holidays.
You've seen this kind of beef before—the standard suite of python filets, alligator steaks and whole wildebeests that you've grown accustomed to feasting upon. But this guy brings a little more to the table: potentially festive rarities like emu eggs, rib eyes made from lion meat and, yes, a very tender loin of the musk ox. Oh, and if you're hosting the Palins sometime next year, sit tight: moose will be available shortly.
Is all of this dangerous? No. Is it illegal? Unfortunately not. But delicious? We'll go out on a limb and say yes. And even if not, it creates a critical opportunity to show up Uncle Joe and his signature Christmas ham with your iguana filet, or to impress your next candlelight dinner date by placing a platter of swan steak in front of her.
Orders take three days to ship, so you should probably put it in an order now if you want to leave out any emu eggs for Santa.
That guy will eat anything.