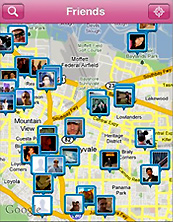 We don't want to throw around words like "stalk." But let's just say that, throughout the march of history, there have long been ways to discreetly track a person's whereabouts.
Google Alerts. Facebook. Homing pigeons…
And now:
Stalqer
, a new app that lets you keep tabs on everyone in your address book—all in handy (and subtle) map form—out now.  
Think of it as a sort of automated Bat-signal for your phone. After you sign up and import your entire address book (and your Facebook friends for good measure), you can start sending select friends regular email updates on your whereabouts. Stop for dinner at Hyde, tap "check in" and they get an update. Get stuck in SFO, send an update. Walk across the street, you can send an update—you get the idea.
But on the off-chance your friends don't appreciate your spam (they can be sensitive like that), turn the tables by following them on the map, where you and your friends' whereabouts are automatically updated in real time (even if you don't check in). Find yourself with an hour to kill between meetings, and you can see if your old flame's around to help you investigate the neighborhood's finest hotel rooms. Or if you're heading to an after-party later on, see if your connection's inside to help you bypass the velvet rope (in case your charm inexplicably falls short).
And if that doesn't work, try a homing pigeon.