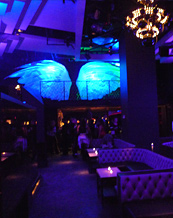 You've got your spots.
Your regular haunts, the dives that know your name and those few scene-y meccas that you always keep your eye on, no matter what's going down.
Well something's definitely going down at the Gansevoort, and we're here to bring you your first look inside.
Meet the swanky, new little lounge and garden from the gentlemen behind deceased club Stereo,
Provocateur
, quietly soft-open now in the old Ono space for the Eurocentric revelry you've come to expect and crave in the MPD.
Walking into Provocateur, you'll get the distinct feeling that you accidentally happened upon a sinister version of the Victoria's Secret Fashion Show afterparty—large purple banquettes dot the space, there's a black metal catwalk above the bar and a monstrous set of angel wings lord over the whole room. (Perfect for spontaneous
Zoolander
-style walk-offs.)
There's also a decent chance you'll bump into an angel or two, considering the house-loving models, friends of models and out-of-work-bankers-who-love-them that the former Stereo vets are likely to draw in. If you need a quick breather from the action inside, decamp to the garden area (open in a couple weeks), where each private seating area looks like a different room in a dollhouse (dolls not included). There's even a retractable roof that opens and closes depending on the weather.
We're thinking it might be closed for a few months.