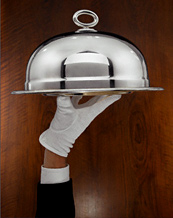 There's nothing like the thrill of the hunt. With the possible exception of letting someone else do the hunting for you. 
And if that someone can deliver their sweet, sweet booty directly to your door, all the better.
That someone:
Zingerman's Culinary Adventure Society
, your source for quarterly deliveries of rare foods from all over the globe, now accepting members.
In short, it's like going on a tour of the world's best (and occasionally weirdest) foods, but without the trouble of actually leaving home. Every three months or so, you'll get a shipment of rare and unusual delicacies—past selections include cheeses you couldn't taste unless you lived on a farm in Wisconsin, Rangpur Lime Syrup (the secret ingredient behind the smokiest mojitos) and frost tea from the Himalayas (which has long been your go-to source for frost).
Your unlikely curator: a deli in Ann Arbor, Michigan, one whose reputation is as good as its website is bad. As for what's up next, well, all we can say is that it includes the fruits of a recent jaunt through Italy—licorice and a mint chocolate bar from Calabria, spicy grape preserve from the Piedmont region and buckwheat pasta from the Marche region.
And three of Berlusconi's mistresses.