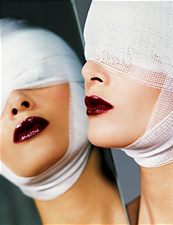 First of all, you look great.
But this is LA, a new year is almost upon us, and you might be starting to wonder if you'd look even greater with Brad Pitt's nose, or J. Lo's butt, or Brad Pitt's nose and Brad Pitt's eyes and Brad Pitt's cheekbones and Brad Pitt's chin. (No judgments here.)
Once again, technology has answered—this time in the form of a digital test run before that plastic surgery. It's called
iSurgeon
, and it's now available.
With the help of this modern miracle, all you have to do is upload a photo from your iPhone, choose the attribute you think could use some work, and use that touch screen to lengthen, smoothen or plump to your heart's content. (We should mention that not all of your parts are up for reimagining. Sorry, ankles.)
And because the world of medicine always calls for a second opinion, you can easily send your new schnoz out into the social networking sphere for feedback. You might even want to spend some time nipping and tucking your friend's photos.
As far as we can tell, there's no risk of malpractice.