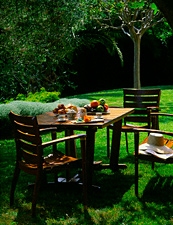 There are only a few things you want to do in this city from now until May.
Devour stone crabs (done), suit up for the Heat (working on it) and enjoy a wine-soaked six-course feast outdoors.
On a farm.
Helping you with that last one:
Dinner in Paradise
, a series of al fresco banquets set on an organic farm in Homestead, now taking reservations for its first feast of the season next weekend.
If you've been waiting for the perfect opportunity to put the top down and take a drive deep into Miami's agricultural south, this is it. The DIP setting is a candlelit gazebo on Paradise Farms, which means you'll be surrounded by five acres of tropical fruit, avocados, edible flowers and all manner of vegetables. (It's like a rabbit's wet dream.)
The evening starts with a cocktail reception with wine from a neighboring vineyard. Then, you'll be led to one of several tableclothed communal tables, where you'll work your way through six courses (prepped by three area chefs) that use everything from local seafood (gulf shrimp, whole pompano) to organic produce from the farm like garlic flowers, heirloom tomatoes and the geometrically gifted star fruit.
Which we're pretty sure is where Starbursts come from.