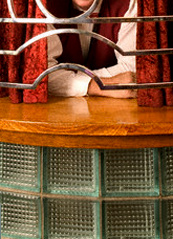 Today, we'd like you to imagine a dark and mysterious place: a movie theater.
You sit down, and see a batch of trailers—there's the next Batman flick, Clooney's new comedy, something with Amy Adams you'll be dragged to in two months.
Only this time, instead of deciding which movies you want to see, you'll be picking which ones you want to buy.
Ladies and gentlemen, that time is now. (Well, technically, next month, but who's counting…)
Welcome to
Cantor Exchange
, a new site that brings the complex world of trading and derivatives to Tinseltown, ramping up now for a full launch in January.
If the idea of gambling on Hollywood sounds familiar, then you're probably thinking of Hollywood Stock Exchange, which lets you use fake money to trade stock-like "shares" of Hollywood movies and big-time stars. This site's a spin-off where you'll do basically the same thing—but for cold, hard, Pitt-leveraging cash. So suddenly,
The Blind Side
's surprisingly strong opening weekend isn't just cocktail chatter—it's a source of income.
In short, you'll be buying low on potential sleepers, and selling high on what you think will bomb. (Cough,
Avatar
.) The site's in "practice mode" for now, but will be fully up and running in January—when you can convert this month's winnings into real money. In other words, it's just like a regular futures market.
So don't do anything that will get you subpoenaed.