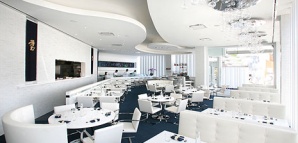 Forecast for your next important dinner: crisp and clear. 

That's assuming you're among the first to visit Kumo (Japanese for "cloud"), the new power spot from ex-super-agent Michael Ovitz soft opening tonight on Melrose.

When you step inside, you'll hardly recognize the former Citrine space—the ceiling is higher, the décor is brighter (nearly everything but the blue rug is white, silver or glass), and just one central wall is retained. If you're early, grab a Kumokaze, made with chile-infused vodka, from the round white bar. If you're right on time, you'll be escorted straight to the sushi bar (okay), a table on the floor (good), a booth near the windows (better) or the private room behind a beaded silver curtain (best).

Once you've been seated (and have dutifully greeted any diners you haven't seen since last year's awards season), you'll negotiate a traditional Japanese menu with some French and Italian influences from chef Hiro Fujita, who hails from HamaSaku, the Westside strip-mall hideaway that's also Ovitz-backed. (You're also likely to spot Toshi Kihara, your favorite Asian pop star-turned-HamaSaku king—he's pitching in at Kumo too.)

If you become a regular, you'll likely notice changes like lunch hours (due to debut a week from Monday) and, eventually, tables on the Kings Road sidewalk.

For now, it's you, Ovitz and the big blue yonder.