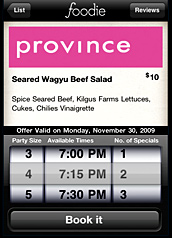 You've never needed a maître d' to save your favorite table at a hot restaurant (you know, the one that doesn't accept reservations). But it's nice when he does anyway.
And if a chef comes out to whisper in your ear about that rare delicacy she's tucked away just for you, well, it'd be rude not to accept.
So allow us to present
Foodie
, a new and deliciously ingenious app that's like having a having that maître d' in your pocket (in a good way).
In short, it's a place where you can get tips about anything from a specially reserved table to a chef with a little extra Wagyu beef on his hands, which he's made into an off-the-menu secret.
When you log in, you'll see a map of Chicago, with pins representing restaurants with a special—maybe Primehouse has a 28-day aged rib eye ($45 value) they'll let you have for the price of a Delmonico ($28); perhaps it's an ale-braised octopus that Shawn McClain is turning out only for those in the know at Spring; it might be a discount on the Bloody Mary madness at Perennial's brunch.
You'll pick the specials you want, make your reservation, send out invites to your friends and update your calendar with a few taps—and you'll even receive a little reminder buzz on your phone 15 minutes before your reservation.
No tipping necessary.