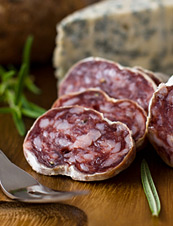 Meat plus salt equals salami. 
It's a simple formula that we wouldn't dare mess with.
Actually, yes, yes we would.
Allow us to present chef Jamie Stachowski's
Cocoa Coppa
, a chocolate-infused salami now available at Red, White & Bleu in Falls Church to elevate your winter smorgasbord.
Let's get this out of the way: this is not some chocolate-covered Slim Jim gimmick meant for holiday gifting. This is artisanal pork, weeks in the making.
Stachowski starts with the neck of a pig (how all great preserved meats start out), cures it with salt and dark cocoa powder for 45 to 60 days to let the meat dry and the flavors mingle, then slices it thin. He says his inspiration was the mole sauces of the Yucatan, but you'll notice it still tastes more like Milan than Mexico—earthy and sweet, balancing the normal saltiness of coppa (or "gabagool" if your name's Tony Soprano).
Stachowski took to selling out of the back of an SUV earlier this year to satisfy demand for his creative cuts, but now he's selling under his own name in actual stores (even though you're more than happy to buy cured meat out of a truck).
And if you happen to drop by to pick some up, you might want to try a few of his other cured curveballs: pheasant pâté with red wine and lardoons; wild boar salami with beets and cloves; and blood, tongue and heart terrine.
The Wes Craven of terrines.