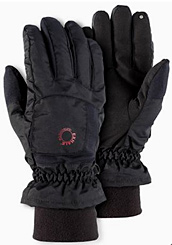 In a cold place like Boston, keeping your hands warm is a paradox wrapped in an enigma surrounded by a mitten.
To warm up your hands, you want to blow on them. But to blow on them, you have to take off your gloves…which makes them cold.
For centuries, this cruel catch-22 has plagued the city's greatest luminaries, from John Adams to Robert Parish. You were damned if you blew, damned if you didn't.
But all that changes today. Introducing
The Exhale Heated Gloves
, the gloves with a hole you can blow into, available now.
These are the mitts you'll want when you're staring down the drop of a monstrous double-black diamond—because as we all know, if your hands aren't toasty, you're not going to be setting any course records. When you feel like your digits could use a quick steam bath, simply lift the magnetic flap sewn into the back of each glove, blow a hot breathy blast into the small hole, and then quickly close the flap to seal-in the sauna.
As if solving an age-old New England problem wasn't enough, the gloves also allow for easy phone and iPod use, courtesy of some tiny fabric dots on the tips of the index finger and thumb pads.
Perfect for your next mid-black diamond conference call.