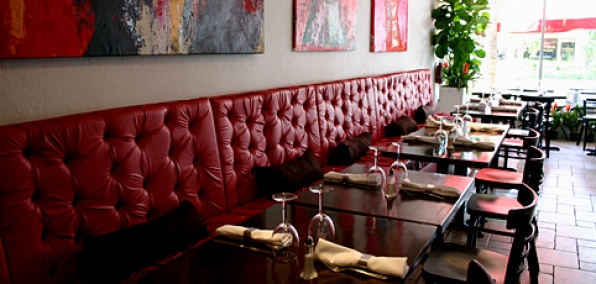 Ever since the universe was created by a volcanic blast a billion years ago (note: not sure about the validity of this fact), lava stones have been the miracle workers of the rock family.
First, they got your grease-stained hands really, really clean (to the tune of a fun, Jamaican-style jingle, no less). Then, they made the walk to your front door a lot more pleasant and crunchy-sounding. And now, in lava stones' most impressive move yet, they will attempt to cook you dinner.
This will happen, naturally, near the Bal Harbour Shops, at a small steak and tapas restaurant called
Stone Grill 95
, open now.
Here's how it works: you'll slide into a blood-red half-booth, survey the
menu
and order up something carnivorous like the
New York Strip
steak or the
Colorado Lamb Chops
. A few minutes later, servers will come out with this big, sizzling lava stone on a wooden board, put it on your table, and you'll toss your strips of meat on the stone for about 40 seconds on either side and eat them.
And just so you know, the meat is pretty good quality—it's cut by a Texan known as Punchy, and sourced from the same place as Prime 112. So when you take it down (with the help of some wine, obviously), you'll probably note a cleaner, purer taste than what you get with charcoal.
But we still love you, charcoal.