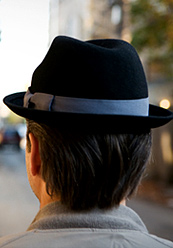 We hope you'll forgive us, but we couldn't help noticing that you look like a person in need of something to doff.
So we bring you word of
Goorin Bros. Hat Shop
, opening tomorrow to ensure the top of your head always looks as impeccable as everything below.
This is the first Chicago outpost of the legendary SF-based milliner, but you'll instantly recognize its line of iconic pinstripe fedoras that Sinatra himself would have been proud to hang on a bedpost or two.
Squeezed into a boutique-heavy stretch of Milwaukee Avenue, the store is easy enough to find—just look for the Victrola in the window, helping set the mood to this throwback to a time when men were men, and trucker caps were for truckers.
Sit in crushed-velvet settees, put your feet up on dusty cargo trunks, and stare into antique mirrors as you decide whether to go for something Draper-esque like the
Bonanza
fedora, or something like the
Trooper
, a faux-fur wax-canvas aviator's cap, helping you finally master that elusive "Howard Hughes comes to Wicker Park" look.
And when you need something for the slopes—or the "L" platform—you'll find caps like the
Urkel
, a cable-knit cap with a small-front bill to keep that blinding November sun out of your eyes.
Cable-knit red suspenders sold separately.