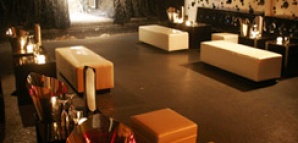 With rock venues like
CBGB's
and
Joe's Pub
on the brink of closing, one has to wonder if "the day the music died" isn't far off. Velvet-roped clubs proliferate, as do celebrity DJs, but what about the good old rock star hangout, where groupies, tight jeans and tattoos abound?
Thankfully, all hope is not lost. Smack dab in the middle of the MPD, where posh spots like
Double Seven
and Lotus demand you buy a table just to sit down, a veritable rock club will open its doors tonight. "R&R is going to be a music-driven place," says consultant Mike Diamond, co-owner of the NYC rock club
Snitch
. "It's not about bottles here," he says. "You can actually sit without one. It's about live entertainment and having the right people in the right place." In a space that's best described as subterranean, guests can hang out in either of the three rooms, although true music lovers will undoubtedly crowd into the
black and white room
where the stage is (Adrien Grenier's band plays tonight, and Papa Roach, Everlast, Sarah Hudson, and Scott Weiland are in the planned lineup). A DJ will also seamlessly spin rock and pop so the music never does die here.
R&R
will be serving signature drinks like the
Hotel California
(Bacardi Big Apple, pineapple juice and sour mix), the
Backstage Pass
(Stoli-Vanil, 7-Up and orange juice) and the
Tour Bus
(Finlandia, Campari and orange juice). If you're still inclined to buy a bottle, at least it will be at a retro price. Sure, Joey Ramone's flipping over in his grave at the thought of a $175 bottle, but where else would he go in the MPD?