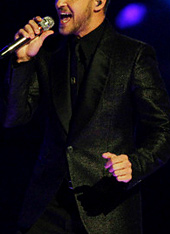 Your creativity knows no bounds.
There you are driving down A1A (beachfront avenue) composing the illest rhymes in your head.
If only there was a way to capture all that genius word-smithing while on the go.
Lo and behold, there's an app for dat.
Introducing the
Freestyle
app, a nimble little program that transforms your phone into a portable hip-hop recording studio, available now.
Think of this program as the DJ Jazzy Jeff to your Will Smith (and if you've got a more recent analogy, feel free to insert it here). Download the free app, play one of the 12 beats from the included library, and let your creative juices flizzow. Feeling a little Timberlake-y? Try the "Beatbox" rhythm. Transplanted Left Coaster? Smooth it out with "Cali Cipher."
When you're ready to put words to the beats, tap the pencil icon to scribble your thoughts with the keypad, and press the microphone icon to record your N.E.R.D.-like opus. And should you blank on a rhyme for "subterranean," double tap the rhyme function and watch as a magical list of rhyming words appears from the 96,000-word dictionary.
In case you're wondering, it's "Pomeranian."