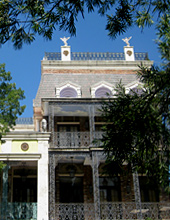 As a city, Miami's got the sexy thing down. No one out-sexies Miami.
But that doesn't mean it couldn't take the occasional sexiness cue from a neighbor across the pond…
Say hello to
The Ivy at the Grove
, your new three-story supper club from the people that brought the world such sensual offerings as Naomi Campbell, David Beckham and Weetabix, now taking reservations for its Friday debut.
From the owners of the Ivy restaurant and Raffles private club in London (which is like the social clubhouse for a couple of princes named William and Harry), this megalounge is like a Victorian mansion for doing all of those fun things that Mary Poppins never mentioned—like socializing in a three-story atrium, dancing to a live jazz band, finding some alone time with your date on iron balconies and, most important, soaking up ice-cold British refreshments from a 60-foot wooden bar.
But this is no public house—you'll probably want to get a bit dressed up (a coat and tie couldn't hurt, gentlemen) and come with an open mind for
classic English fare
like
Salmon Cakes With Sautéed Spinach
and a little dessert called
Sticky Toffee Pudding
.
Think of it as flan, with better manners.