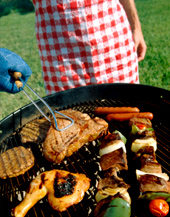 You know your way around a grill, and you can fire up meats with the best of them.
But you can't always play host and cook. (
Someone
has to make conversation with the lonely Brazilian models who just flew in from Rio.)
In times like these, you can now turn to
Miami Grill Catering
, a new mobile barbecue service, now taking reservations.
Let's say you've decided to throw a small afternoon party for 40 of your closest friends. Call up MGC about three days in advance, and tell them
which type of 'cue
you've been jonesing for: there's the
All American
with baby back ribs, roasted chicken, and mac and cheese, the
Cuban Cookout
with roasted pork, yucca fries and fried plantains, or the Argentinean
Parradilla
with churrasco steak, chorizo and salad. (You can also mix and match, and if you're expecting calorie-counters, go for the
Health-Conscious Cookout
, with grilled chicken breast, plank salmon and grilled vegetables.)
Come fiesta day, the MGC crew will show up with all the essentials—grill, spatulas, plates, tables—and within 45 minutes the grilled meats will be ready for devouring. All for about $9 to $16 per person.
Or $1 to $5 per model.