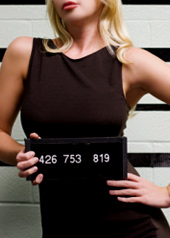 We know that you're an honest person.
You give your number away to anyone who asks. You've never played hooky. You believe that people are made from sugar and spice and rainbows and unicorn tears.
So we hate to break it to you: some people are not to be trusted.
Which is why there are world-changing inventions like
DateCheck
, a first-of-its-kind iPhone app that lets you perform a quick, subtle and discreet background check on those potential life mates (short- or long-term) you meet along life's path, available now.
It's not hard to see when this could be useful. Say it's a Friday night, and you find yourself at the corner bar discussing your love of
GoodFellas
and long walks on the beach with a like-minded cinematographer-slash-marine biologist. Before you go any deeper, it's time to run a check. You'll need to get her name (usually not a problem) or her number (ditto), and then you'll want to slip away somewhere private, just you and…your phone.
From there the app does the rest—click on "$$$," and you'll see if she's got enough property to make sure you'll never have to work again. Click on "Living Situation," and you'll see if her roommates are named Mom and Dad. But the most important category is something called "Sleaze Factor," which checks public records to warn you if you're in for a long night of fun, romance, and maybe a little light larceny.
Think of yourself as the Bonnie to her Clyde.