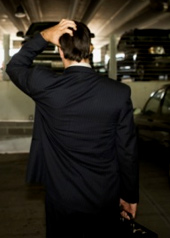 Losing your keys is rough. Losing your wallet…also rough.
But on the "losing your stuff" spectrum of boneheadedness, there's nothing worse than misplacing the vehicle that brought you to wherever you are.
So it's with great fanfare and a lot of relief that we bring you today what will surely go down as one of the most important new technologies of the century.
Introducing
Car Finder
, a new app that knows where your car is, now available.
If Car Finder had been around nine years ago, there may never have been a buddy comedy starring Ashton Kutcher and Seann William Scott (and frankly, we're not sure how we feel about that).
To guarantee you're never left aimlessly wandering the streets of Miami again (at least not while searching out your car), all you have to do is tap the app's car icon at the start of your night to save your location. Then a few hours later, after you've hit up that Bruce Weber party at Casa Tua or watched your Dolphins wildcat their way to another W, you can reopen the app and follow its directions back to your car.
If you want, you can even opt for those directions to appear in an augmented reality mode, which basically means they resemble Arnold's internal scan in
T3
.
Nobody can locate a car like the Terminator.