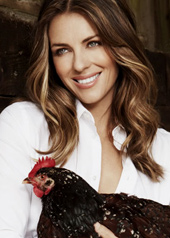 It's been a while since you've heard from your old friend Elizabeth Hurley.
You first fell in love when you dreamed of stealing her off the arm of Hugh Grant (and later, Austin Powers). You stuck with her through her later masterworks, like
Bedazzled
.
And then…nothing.
But, we've got good news. She's back, and she's got some dehydrated beef parts for you.
Allow us to introduce you to the world's unlikeliest source of tasty, meaty snacks: 
Elizabeth Hurley Beef Jerky
, available for your model-actress-endorsed snacking needs starting today. (And no, we are not kidding.)
In short, it's the biggest thing from an actress of a certain age since…well,
Daryl Hannah made a board game
. The model-actress apparently took a liking to jerky while living in California—and really, what's not to love about flat, wrinkly, salty meat products—and so she decided to start making her own on her organic farm in England. (You'll be delighted to learn that it's made from her rare breed of Gloucester cattle.)
It comes inside a package featuring an animated Ms. Hurley wearing a very short dress—so unwrapping the jerky is probably the closest you'll get to undressing her yourself. But to order it, you'll first have to wade through the swimsuit section of Liz's site, which happens to be filled with images of her in various stages of undress.
Up next: Heather Graham corn nuts.