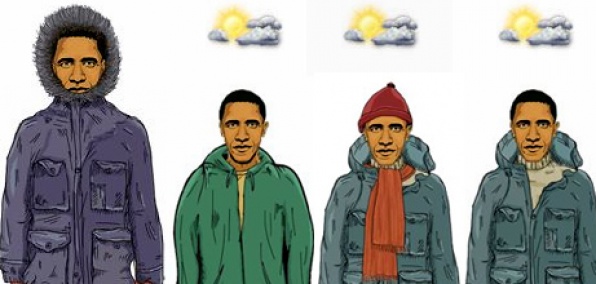 The job of our commander in chief is no easy one.

There's the economy, endless meetings with swarthy Third World dictators and bowling night.

And that's all well and good. But let's face it, what you're really looking for in the supreme commander of the free world is someone who can reliably tell you the chance of rain tomorrow…

Friends, that day is upon us.

Introducing Obama-Weather.com, a site where Mr. President confidently alerts you to the weather forecast on a daily basis. Think of this as the Weather Channel meets CSPAN meets the Cartoon Network—and as you would expect from a service like this, you'll not only get the weather but a style recommendation of sorts. Each day you'll get a visual cue of what to wear based on the presidential avatar's own weather-appropriate outfit.

For example, given today's 49 degree high, the site puts the man in jeans and an autumn jacket. By tomorrow, it notes that the sun will be out, earning the Prez a pair of sleek shades. On Sunday, things will heat up to 68, letting the chief exec downgrade to a lighter jacket (looks like a Members Only number—nice, retro, classy).

For those of you heading to Nevada this weekend for a Harry Reid fund-raiser, you would get to Vegas and see POTUS decked out in a graphic tee and cargo shorts. Or if you're going to Anchorage to write the latest Sarah Palin tell-all, you'll see 44 in a parka with a furry hood.

Yes, he can.