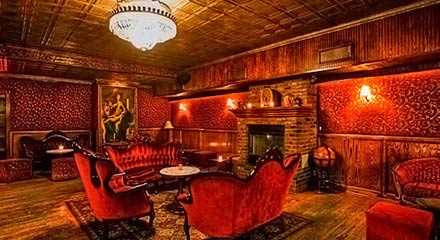 Chances are, not many things frighten you more than the thought of the government standing between you and your booze.

While our recent run of hard-partying presidents means that we are nowhere near a second Prohibition Era, new speakeasy The Back Room takes you back to the days when a six-pack of Bud would get you thrown in the clink.

LES Toy Company
Housed in an actual speakeasy from the 1920s, The Back Room has a "front"-look for the metal gate that says "Lower East Side Toy Company" and traverse the same path prohibition-rebels used to take: down the steps, through the dark, narrow alley and up the metal steps to a door with an old-fashioned peephole.

Drinks are served in teacups, shots in espresso cups, and beer bottles in paper bags (to throw off the cops). A fake bookshelf creaks opens into a private VIP room, where a curio cabinet will host VIP members' mugs. Everything from the tin ceilings, art deco decor and mutoscope is authentically '20s. The only modern touches are the vixen bartenders (women wouldn't have worked at bars back then), the stocked bar (Russian vodka wasn't in the U.S. yet) and the sound system, playing rock and pop.

Out of the Spotlight
Fed up with the glitzed-out scene at his previous clubs, owner Johnny B. created The Back Room so he and his friends could drink out of the spotlight (his "friends" include Tim Robbins, Susan Sarandon and Mark Messier).

And true to wanting what you can't have, there's something about a drink tasting so much better when you feel like you had sneak around on the down-low to get one.