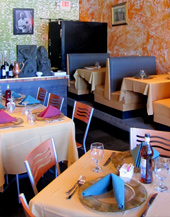 Bollywood, call centers, Padma Lakshmi.
When you sit back and think about it, India has really enriched your life. And that doesn't even take into account the girl from
Slumdog
.
So if it means trekking to a Key Biscayne strip mall to find the best India has to offer, then so be it.
Say hello to
Ayesha
, a saffron-colored curry den now open on the tony island, ready to serve you spicy Indian cuisine and rare Indian beers.
Brought to you by the folks who used to run downtown's Taste of Bombay, the intimate hideaway is a bit more dressed up than the downtown space was, making it perfect for that all-important fourth date, or a leisurely Sunday lunch.
You'll want to start at a high-top table on the patio outdoors, where you can ease into your evening with beers like Royal Challenge and Haywards 5000 (note: this is a beer, not a vacuum cleaner) and apps like
Lamb Samosas
and
Saffron Lettuce Wraps
. Then segue to a cushy booth indoors and brace yourself for a feast of north Indian delights like
Tandoori
Shrimp
,
Vegetables Vindaloo
and
Masala Steak
.
No one does steak like India.