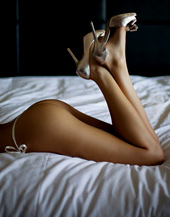 We truly live in amazing times.
Scientists have found the world's oldest known human skeleton. NASA is firing rockets into the moon. And somehow, Keanu Reeves hasn't aged a day since 1993.
And now, this: glow-in-the-dark lingerie.
You're welcome.
Enter
LuminoGlow Lingerie
, proudly billed as "Australia's Original Glow-in-the-Dark Lace Lingerie," ready to light up bedrooms—and lives—now.
We know what you're thinking: this seems like something you would find in a shop that also sells boob cakes and surprisingly lifelike blow-up Sarah Palins. But it's actually a line—now in its second, sexier iteration—of silky and lacey underthings that weds the familiar frilliness you know and love with the power of fluorescence. (They also make a glowing male thong, but let's forget we even mentioned it.)
Even with the lights on—or at least dimmed—the pieces are seductive, akin to what you might find Heidi Klum wearing at the Victoria's Secret runway show afterparty. But to fully appreciate their glory, a little planning is in order.
Leave the garments—a slip, perhaps, or a camisole—under the lights for a few minutes. Then, turn off the lights, and behold the neon, glow-in-the-dark splendor—finding your way toward the promised land has never been easier.
Kanye approves.