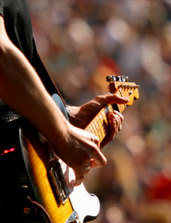 Yes, we know: you know music.
You know the names of all Dave Grohl's DC punk bands.
You know what "Summer of '69" was really about.
Your encyclopedic and masterful knowledge of the complete hair metal ballad oeuvre could make Bret Michaels cry.
But what you might not know: Brian Wilson is playing a last-minute show at the Black Cat tonight. (Okay, not true, but if it was happening, you'd want to know about it...)
Introducing
Concertimatic
, a little wizard of a new iPhone app that crawls through your iTunes playlist, ingests what you like and presents you with an upcoming calendar of all the local concerts of all your favorite bands, available for download now.
The app automatically knows where you are (it's good like that), but if you know you'll be in Omaha next week for a little powwow with Warren Buffett, just punch in the zip code and your snorer of a Midwest jaunt may just be saved by a Bright Eyes show. You can also ask it to filter by the distance you're willing to travel, from one mile (Cinderella reunion tour) to 200 miles (Rolling Stones testing out their new roadside revue in the Cumberland Gap).
And since it provides links to buy music, as well as tickets to the show you're looking at, you could be standing front and center at the Springsteen show next week.
Buffett can wait.