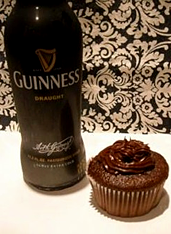 Every so often, some bold pioneer takes a great leap forward in the oft-overlooked field of dessert studies. And too often, those brave feats go underappreciated in their time.
We've had enough. So today, we're taking a stand, and introducing you to the next great leap forward:
The beer cupcake.
You heard right. Meet
Cacao Bakery Beer Cupcakes
, an unholy mix of suds, chocolate and frosting, available now.
Because, as you well know, beer just makes everything better. The proof here is literally in the pudding—the bakery adds Newcastle to its
Chocolate Ale Cupcake
, and Guinness to the
Chocolate Stout Cupcake
. The former is mild—a little too mild. (Imagine a familiar cupcake taste, followed by a finish with hints of beer.)
But if you're craving something a little richer, go for the stout: it has a stronger, sudsier taste, and the heavier brew even deepens the chocolate flavor, leading us to wonder if there's anything beer can't do. (No, there isn't.) We also hear a wheatier, Blue Moon option will be available soon, maybe even this weekend, as soon as the bakery gets the recipe right. (You can't rush perfection.) And it all comes with the frosting in its own container, so it won't get destroyed en route. (Try not to eat it straight from the cup.)
And if you're worried that this all sounds a little…froufrou, well, we're right there with you. Which is why we didn't tell you about the ones spiked with Mike's Hard Lemonade.
Let us never speak of them again.