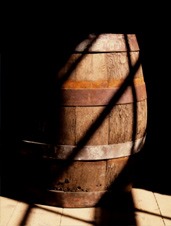 You like to plan ahead. You've already picked out your Halloween costume. You've even bought your Thanksgiving turkey—for next year.
And you know what you're getting everyone for the holidays for the next five years straight.
So you'll be happy to know we've discovered what you'll be drinking in the future—as in, seven years from now.
Introducing
Glenglassaugh's Cask Ordering Service
, a radical new concept that lets you order up a full cask of scotch now and drink it down in the future, available now.
Essentially, it's something you've always wanted: an epic amount of scotch, all for you. The brand sets you up with an octave—basically, a 50-liter cask—of hooch, and then lets it age for at least seven years. (You can let it go as long as you want—and you can even fill it up with the raw stuff yourself, if you happen to be in the Scottish neighborhood.) The price tag is a little more than 800 big ones, though it averages out to about 16 bucks a bottle—think of it as a blue-chip investment.
After that, just sit back and wait. Every year, they'll send you some samples just so you know how things are coming along. Then, when time is up, they'll bottle it for you and ship it your way—so in seven, maybe 12 years, you'll get a knock on the door from whatever hybrid of FedEx-DHL-UPS is still around, ready to drop off nearly 50 bottles of your very own, ready-to-drink scotch.
Some things are timeless.