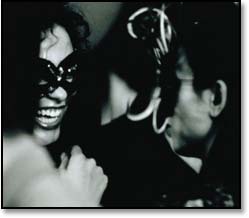 Halloween's less than a week away and it's starting to look like you'll be picking a party off of JoonBug. That thought is enough to make you order a case of
Johnny
and stay in to watch
Night of The Living Dead
. Our suggestion: Save the good stuff and skip the movie. We've plowed through all the party options and pulled out the best of the bunch:
Friday, October 28

WHAT:
Home Halloween Party hosted by Ted Murphy
WHERE:
Home and
Guesthouse
, 532 W. 27th St
THE TREAT:
There will likely be a number of women wearing school-girl and slutty nurse outfits. Rejoice the one night girls feel acceptable dressing like common prostitutes—we expect this party to look like the Halloween edition of
Girls Gone Wild
.
THE TRICK:
Call 212-273-3700 for reservations or
email
for the guest list; no cover, no tickets.
Saturday, October 29
WHAT:
The 4th Annual Halloween Masquerade Ball
WHERE:
Capitale, 130 Bowery
THE TREAT:
Heidi Klum isn't hosting this year (The Gastineau Girls are filling in), but with promoters Richie Akiva, Scott Sartiano and Mike Heller, count on plenty of other models. Your dated Zoolander costume will just seem like timeless irony here.
THE TRICK:
Call 212-334-5500 for reservations; $30 in advance, $50 at door. Costumes required.
WHAT:
Caligula, The Depraved Ruler
WHERE:
Fredericks, 8 W. 58th St
THE TREAT:
Parties named after a debauched Roman emperor famous for his huge orgies have a lot to live up to, but this one might come close. Throw on your toga and join hosts Laurent and Frederick Lesort and their beautiful people for some ancient "group activities."
THE TRICK:
Call 212-752-6200 for reservations; Ancient Greek/Roman attire mandatory.
Sunday, October 30
WHAT:
Halloween Sunday with Q-Tip & DJ Ani Quinn
WHERE:
PM, 50 Gansevoort
THE TREAT:
After two nights of pre-Halloween debauchery, it's a good night for a pit stop. Q-Tip will be spinning while complimentary Finlandia cocktails will be served (from 9-10). There will be some serious music and dancing here, so you can finally bust out your '80s breakdancing tracksuit.
THE TRICK:
Call 212-255-4223 for reservations; tickets are $20.
Monday, October 31
WHAT:
The Masquerade Ball
WHERE:
Marquee
, 289 10th Ave
THE TREAT:
You've been waiting all year to party with Justin Timberlake. And here's your chance. Justin aside, this party's our bet for the hottest ticket on Halloween night. Costume suggestion: Show up as Michael Jackson and storm inside to take your moves and vocal stylings back from Timberlake.
THE TRICK:
Call 646-473-0202 for reservations (ask for Samantha); $30 cover at the door.
WHAT:
Haunted House Halloween
WHERE:
The Roxy, 515 W. 18th St
THE TREAT:
David Guetta is spinning with his usual sleek crowd. With the sure-to-be crazy costumes, high energy and huge space, tuck a Red Bull somewhere in your costume because this party will likely start feeling like a masked rave.
THE TRICK:
212-380-1304 for advance tickets and table reservations. Tickets $40 in advance, $60 at the door (
We hooked up a few of these; let us know if you're interested
). Costumes required.
WHAT:
Roaring '20s Costume Dinner
WHERE:
The Biltmore Room, 290 8th Ave
THE TREAT:
If you're looking for something beyond S&M costumes and body shots, this a more refined option. Chef Gary Robins is offering a special
five-course menu
, and partygoers will be decked out in roaring '20s style. While dinner may sound sedate, history indicates there's a good chance things will get rowdy as the night progresses.
THE TRICK:
Call 212-807-0111 for reservations; $85 prix fixe.