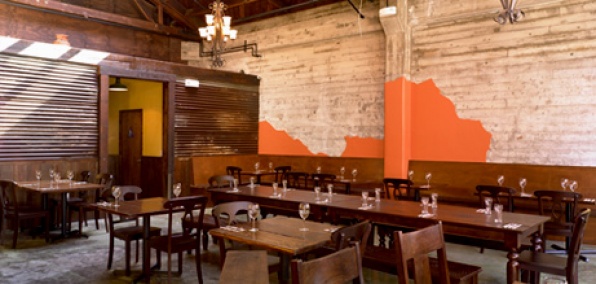 It's a no-brainer. You want a burrito; you go to the Mission.

But not so fast…

Welcome Iron Cactus, your new burrito, quesadilla and taco-slinging eatery coming to 4th and Townsend this Wednesday.

Up until now looking for an enticing Mexican joint in this part of town conjured images of tumbleweeds blowing down the streets, so you can thank the good people at The Creamery who brought it on themselves to fill that void. And since you know them more for their Ritual Roasters espressos, you'll be glad to hear they brought an ex-Pancho Villa chef on board to make sure everything is legit.

Look for the wagon-wheel sign over the doors (reclaimed from an old Argentinean hacienda), and you'll find yourself in this cavernous Mexican canteen. Drop in line and order the Carne Asada Burrito or Carnitas Tacos. If you're especially hungry, or you want to get exact with your meat needs—say, half chile roja and half carne asada—you can ask for it by the quarter- or half-pound (they'll even do a pound as long as they can roll the tortilla).

Of course, if you're in the mood for something not wrapped in a tortilla, you can order special plates and have them delivered to your table. We recommend taking the two-top in the corner under the gigantic skylight by the corrugated metal wall.

Happy hour, however, is best enjoyed in the sun on the outside patio.

But, really, it's a rain or shine thing.