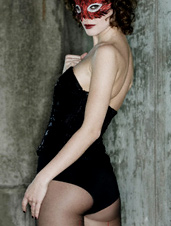 You can almost smell it in the air.
It's Halloween season. A time for citywide chaos and inanity, spiked with candy corn, plastic handcuffs and lingerie.
In just three short weeks, sexy cops will be on the prowl, the streets will be flooded with would be Lady Gagas and Megan Foxes, and all will be right with the world.
Now, normally we wouldn't find ourselves partying in the heart of Times Square, but when we heard about Simon Hammerstein's commitment to building the first haunted house with booze, we took a first look inside, and we think you'll be scared. If for no other reason than the combination of half-dead, nearly nude aerialists and vodka...
Welcome to
Purgatorio
, the first nightclub haunted house, brought to you by the oversexed crazies who run The Box, debuting this Thursday to bring you the pre-Halloween revelry you deserve.
In the interest of preserving what will be a shocking, mind-bending, whiskey-addled experience, we'll spare you all the details. But we can tell you this: you will be whisked through a seductive, three-floor world of oddities and performers, lingerie-clad aerialists, tranny bouncers, grandma strippers, hot girl death shows, disco ball chandeliers, costumed midgets, patent leather walls, autopsies, body bags, creepy funeral homes, neon, smoke and mirrors, and plenty of booze.
And since this is run by The Box, you can look forward to the kind of stage show that always seemed to make sense on Halloween anyway.
Sure, you might have to trudge through Times Square to get there, but Times Square is its own haunted house in a way.
Minus the grandma strippers, of course.