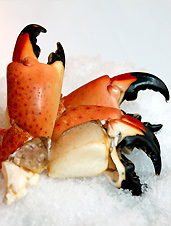 Stone crab season. It's just two days away.
And immediately you're thinking Joe's, but due to that prickly no-reservation policy of theirs, the opening-week crowds could be pretty massive.
So allow us to suggest another option:
George Stone Crab
, delivering fresh stone crabs to your door at half the price of Joe's (and with no palm-greasing necessary).
Think of George as the pizza delivery of the crustacean world, promising to shuttle those tasty claws from the ocean to your front door within 24 hours of your order. Started by a laid-off financial analyst (it's great when the distressed economy works in your favor), the service connects you with these rare and pricey fruit of the sea via independent fishermen in the Keys, so the claws are never frozen. The menu's pretty straightforward—you can choose from medium, large, jumbo and colossal claws, and a minimum order of five pounds (about 20 large claws) will cost you about a hundred bucks.
We recommend inviting over a few seafood-loving friends, laying out a couple of dipping sauces (honey mustard, zesty horseradish), cracking open a bottle of white wine and waiting for the doorbell to ring.
Note: make sure you call them first.