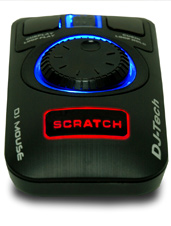 Over the years, you've noticed that when music and technology come together, magic happens.
In 1950, there was the electric guitar. In 1980, came the keytar. And then there was Auto-Tune, which changed forever the way you thought about
diamond-grilled producer-rappers wearing top hats
.
And now, in 2009, the next great leap forward: the
DJ-Tech Scratch Mouse
, a hitherto unimagined combination of scratching and computing, available now.
Ever since time immemorial—or at least since Run-D.M.C. came along—humankind has yearned to scratch records at work, without fear of getting caught. That moment has arrived, thanks to this tiny mouse—just load up the software, and you're set to begin mixing the ultimate deep-trance punk rock power ballad—the ideal background music for wooing clients (or "clients").
The real star, though, is the mouse itself. When you plug it in, the buttons light up in a rave-worthy red and blue. (Go ahead, dim the lights.) And then let your fingers wander over to the assorted buttons—there are two that let you "loop beats" (you'll figure out what that means soon enough) and a giant wheel in the middle, perfect for cross-fading between, say, "Every Rose Has Its Thorn" and "Poker Face."
Of course, if for some reason you have actual work to do, you can also use this as you punch up your expense reports—in our tests, using this mouse made crunching numbers roughly 3 percent more awesome. Now all you need is a DJ name…
And some glow sticks that double as a hard drive.