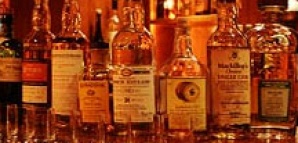 We know, it's been a long week.
At this point, you might be looking for somewhere to have a drink...or six. So we've compiled a short list of the places you can sample your liquor in excessive yet socially acceptable quantities (translation: booze flights). It's like wine tasting—minus the pretension, with a thankfully elevated alcohol content. A toast: to the weekend.
Destination:
Dos Caminos Park
, 373 Park Ave S., 212-294-1000
Flight:
Añejo
Tequila
Flight Plan:
Sip (or shoot) three brands of oak-aged
añejo
premium tequila, served with chile-spiced salt and, of course, plenty of lime.
Destination:
Brandy Library
, 25 N. Moore, 212-226-5545
Flight:
Cognac, the VSOP (Very Superior Old Pale) flight
Flight Plan:
Eight half-ounce pours of Cognac take you from a young Hennessy to a six-year-old Leopold Gourmel.
Destination:
Django Restaurant
, 480 Lexington, 212-871-6600
Flight:
Iced Dessert Cocktails
Flight Plan:
Bring your date for a rainbow of eight chilly classics, from a frozen
Litchi-Sake Martini
to a
White Russian Milkshake
.
Destination:
Flatiron Lounge
, 37 W. 19th St, 212-727-7741
Flight:
Martini Flight of the Day
Flight Plan:
Sample the famous cocktails of this art deco-inspired lounge with its three mini-martini flight, which changes daily and includes drinks both on and off the menu.
Destination:
Russian Vodka Room
, 265 W. 52nd St, 212-307-5835
Flight:
Iced Rack of Infusions
Flight Plan:
In this beyond-authentic Slavic drinking den, choose six of the place's ten house-infused
vodki
. Try the apple pomegranate, the spicy ginger and, for the adventurous only, the garlic-pepper-dill.