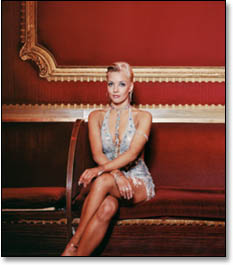 Much like your recurring dream involving
Adriana Lima
, the new
Boudoir
nightspot is all about expectation and illusion. It starts with an entrance hall lined with giant one-way mirrors, so those inside can check out new arrivals (voyeurs and exhibitionists...a timeless combo).
"It's a little kinky," says Daniel Laporte, who designed Boudoir and co-owns it with partners Francois Emond (Pangea, Lotus, Rehab), Christophe Bevilacqua (PM, Aer) and George Wayne (contributing editor,
Vanity Fair
). "There's no limit. We want people to do whatever they want here," says Laporte.
The club gets its name from the antechamber where a woman is courted by her lovers before taking them to her bedroom (so you know what you'll be doing here); this Boudoir is lined with red walls, complemented by a red-lacquered fully-stocked bar, 35 gold-gilt mirrors, crystal chandeliers, 17 tables with love seats and luxurious rugs on a white floor. There's also a wooden ceiling adorned with countless LED flickers, to give the illusion of real candles, along with holograms of "
beautiful people
" that float in unexpected places, like the bathrooms. A DJ will pump out a blend of Eurohouse music and hip hop.
Set to open to the public next Tuesday, with a soft preview tomorrow night, Boudoir (like everyone else) will also add in a downstairs VIP room in the spring. And if you plan on calling ahead of time, don't bother. Boudoir has a no-list policy. "Only good people get in," says Emond.
Note to self: Help an old lady cross the street asap.