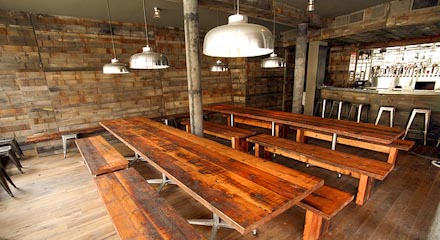 Nothing goes better with a cold beer than...a choice of 39 other cold beers. And pork fat popcorn.

Hidden in plain sight for months on the high-traffic, high-profile corner of Rivington and Ludlow, Spitzer's Corner is finally set to unleash a hoard of strong-yet-tasty beers, gourmet salty bites and a convivial drinking vibe on the unsuspecting Lower East Side.

Below, in preparation for this weekend's soft opening (just beer and raw bar, with food to follow in a couple weeks), we bring you a first look inside.

Approach Spitzer's Corner like you would any run-of-the-mill European beer chalet on the LES: Take a seat on a bench at the large communal table, grab a stein of beer and stare out one of the large open windows at the circus that is Rivington Street.

The décor is simple—pickle barrel wood for the floors and walls, unfinished metal for the bar and lighting—but a perfect foil to the melee-prone exterior. And then there's the beers. Modestly billed by owner Rob Shamlian as the single greatest selection of beers ever assembled in the city (fighting words if we've ever heard them), Spitzer's brings you 40 flavor-heavy beer-drinkers beers with names that sound like old European monks and despots (Aventinus, Old Rasputin, St. Bernardus). The food is designed to complement the beer's bite: Try the PBLT (a traditional BLT with the genius addition of crispy pork belly) or maybe the beer-battered oysters.

You know, in case you haven't had enough beer.