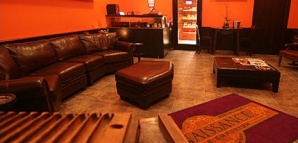 Like most casual cigar aficionados (and admirers of Latin people), you enjoy the occasional Cuban.

But recent run-ins with customs have strained your relationship with the Republic.

For a slightly less risky puff, we point you in the direction of Harlem, where a new under-the-radar cigar lounge, Renaissance Cigar Emporium, offers the greatest innovation to cigar lounges since the cigar: BYO liquor.

Enter this leather and marble joint off a newly condo'd stretch of Madison and you're immediately hit with the smoke-and-cedar notes that used to be synonymous with guys' nights out, back when smoking was legal. (It's allowed here, of course, because Renaissance is not technically a bar.)

Choose your cigar from a walk-in humidor that carries more than a hundred options—try a 1992 Rocky Patel if you're feeling bold, or a house blend hand-rolled by the resident cigar maker, Nelson—then kick back on the long leather couch with your stogie and whatever beverage you carried in. (Don't be surprised to find yourself lighting up next to regulars Al Sharpton and former boxer Renaldo Snipes.)

For your smoking and drinking convenience, Renaissance even rents out cedar-lined, temperature-and-humidity controlled lockers to store both your cigars and your booze—which means you can show up with a snifter and a matchbook and be set for the night.

Something tells us you and Nelson are going to be seeing a lot of each other.