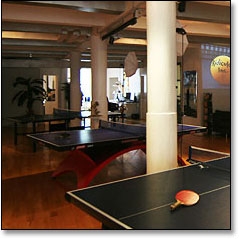 You never know where your next bit of nightlife will emerge.
Case in point: In an unassuming residential building on a quiet stretch of Greenwich Street in Tribeca, one of the most original parties we've attended in a while happens every Friday night.
Presenting:
Naked Ping Pong
.
Let's start with this: The nakedness is merely a state of mind (officially, at least). Founded by three filmmakers who made their mint the way so many artistes have—a clothing-less yoga video starring a Penthouse Pet—Naked Ping Pong brings together amateur/pro table tennis players with sexy spectators for an off-the-wall evening of beer, cocktails and feverish paddling.
To get there, punch the buzzer at 487 Greenwich, ride the elevator to the fifth floor and step into an enormous 4,000-square-foot loft complete with three pro-size ping pong tables and an eclectic crowd of financiers, New Balance-wearers and runway models. Twenty dollars gets you access to an unlimited supply of vodka-Red Bulls and Victory beer till midnight, and for an extra Hamilton you can compete in the tourney and impress the crowd with your own nasty forehand.
Don't be surprised to see a camera or two, either. Naturally, the founders are turning the weekly party—and their serious attempt to make the 2012 U.S. Olympic team—into a
documentary
.
You won't need to see it, though. You lived it.