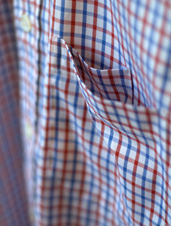 Here we are. Another Monday. Another long week ahead.
Frankly, we understand if you need a little something extra to get through it all. Maybe something…illicit.
And, well, we can't help you get it. But we
can
help you find someplace to put it—like your shirt.
Introducing
Wolf vs Goat
, a new line of shirts (and more) outfitted with their own special, um—how do we put this?—medicine pouch, available now.
The twisted brainchild of Washington, DC's hip-but-not-too-hip shop Farinelli's, the line isn't just a stoner's fantasy (or just shirts): think smartly tailored trousers and peacoats, which should keep you handsome during the cold months ahead. (We hear there's more coming this spring, too.)
But for now the focus is on the shirts—smart button-downs that come in one of two fits: "before dinner" (for skinny types) and "after dinner" (self-explanatory). If you're a detail-oriented type, you'll appreciate the smart mother-of-pearl buttons, made from deadstock so they're one-of-a-kind. If not, you'll still be impressed with the marvel that is a well-cut, American-made shirt.
But it takes a special kind of connoisseur to appreciate the shirts' signature touch—a tiny pocket inside the chest pocket, dubbed the "Doobie Pocket" after the illicit stash you could store there.
Not that we know what that means.