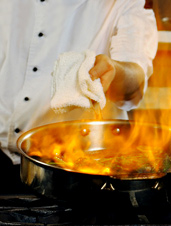 Dining out. You're a fan. But lately you've been thinking it's time to go rogue.
To do away with menus, wine lists and the usual appetizers.
And if it's BYOB, all the better…
Allow us to whisper a little culinary secret in your ear: there's an underground food society in the city called
Cobaya Gourmet Guinea Pigs
, and they meet periodically for some of the best meals in Miami.
Started by a pair of local food bloggers, the idea is to gather a group of brave diners willing to serve as gourmet food testers for the finest chefs in town. The dinners can take place in a variety of settings—anything from a restaurant to someone's home. The menus are set by the chefs and everyone reserves and pays in advance through the group's website. In lieu of a wine list, everyone is encouraged to bring their own (and to share, of course).
Be sure to come with an open mind—the group's first dinner, at Talula on South Beach, included tripe risotto, roasted quail with popcorn puree, and scallop with beer sorbet. The next dinner is scheduled for October 24, but spaces are filling up fast. Chef Jeremiah Bullfrog is cooking (yes, that's his name…he's Rick Ross's personal chef), and from the looks of his
Twitter page
, you can expect some culinary fireworks.
Not that you heard it from us.