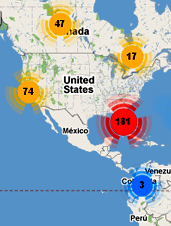 You've seen a great many things. Traveled a great many miles. Performed nearly superhuman feats of strength, agility and whipped cream consumption.
In bed. (Stick with us—for once, it's applicable.)
But you've never had somewhere to broadcast to the world your achievements in the field of seduction—or compare them to someone else's. Until now…
Welcome to
I Just Made Love
, a brave new website where you can say exactly when, where and, yes, how you got it on, online now.
Now we know that kissing and telling is not the most gentlemanly behavior, which is why we stress that this site is just as valuable for science as it is for personal grandstanding. Thanks to the magic of Google Maps and a willing populace, it tracks who's doing what, where and how often. Consider the educational opportunities for latter-day Kinseys—for instance, as of this writing, the American city that has seen the most action in the past hour is Washington, DC. (Then again, Congress is in session…)
But if you insist on using it as your own personal record of conquests, here's how it works: just put your mouse over your geographical location and right-click. Then, you'll be able to list the circumstances (indoor or outdoor), position (who knew there were so many?) and add a brief, tweet-like comment of your choosing.
"Hiking the Appalachian Trail" is taken.